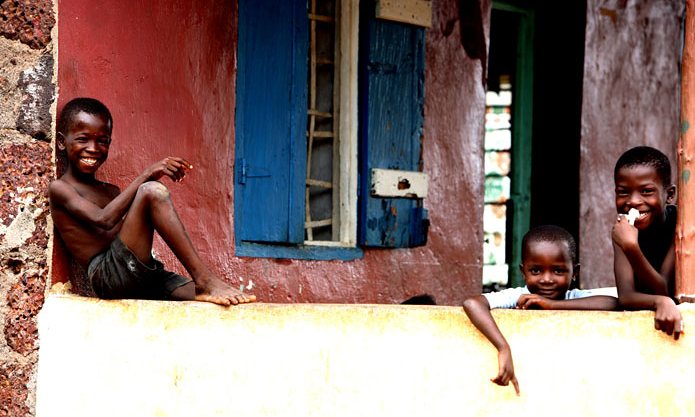 Il nuovo mondo: come sono protetti on-line i bambini nei paesi in via di sviluppo?
 Brave new world: how are children in developing countries protected online?
Vi proponiamo un articolo in lingua originale pubblicato dal quotidiano britannico "The Guardian" sul tema dell'accesso ad internet da parte dei ragazzi nei paesi in via di sviluppo con la possibilità di usufruire di benefici per la loro istruzione.
Technology is transforming the lives of children and young people all over the world but stakeholders need to work together to ensure the benefits outweigh the risks.
In Diriamba, Nicaragua, an eight-year-old boy reads stories on a donated laptop. Teenagers in Kampala, Uganda, use a mobile app to speak out about social issues. And in the Mandalay region of Myanmar, tablets help students to complete their secondary education.
Around one in three internet users is under 18 (pdf) and millions more will soon be connected. With the United Nations calling for universal internet access in the least developed countries by 2020, closing the digital divide is a global priority.
But how can the socio-economic benefits of connectivity for children in developing countries be balanced with the risks of misuse? And who can help the next generation to enjoy technology and not fall prey to its darker side?
Same risks, additional barriers
Access to the internet and mobile devices empowers young people in areas like education and civic engagement but it also poses challenges to their wellbeing, wherever they are in the world. Unsuitable content, privacy breaches, sexual exploitation, bullying, radicalisation – the risks children face online know no boundaries.
Historic digital inequality means that young people in developing countries – many of whom have bypassed computers and gone straight to mobile – could be especially vulnerable. Without the right digital skills, children might fail to recognise inappropriate content, conduct or contact. If their parents are not technology-literate or their teachers have no ICT qualifications, their support network is limited.
One thing is clear: closing the connectivity gap is not just a case of improving availability, affordability and reliability; it is about embedding technical skills, raising literacy levels (both online and off) and increasing resilience across entire communities.
Legislation must consider children's rights
Although in many countries, basic legal frameworks are lacking, online safety is making its way up the political agenda in some developing nations such as Namibia. Micaela Marques de Sousa, UNICEF representative in Namibia says, "We are witnessing a major drive of reforming legislation to ensure child online protection as a result of an innovative partnership with the UK government.
"UNICEF's strategic work with the government of Namibia, including the ministries of information, gender, justice as well as the private sector, will ensure that by the end of this year, we have laws that will criminalise child pornography in all its forms. This will bring Namibia's legislation in line with the highest international standards governing child online protection. We hope that this progressive legislation will serve as a role model for the region and beyond," she added.
Namibia may be a role model but with technology evolving at such great speed, child protection laws and regulations often cannot keep up. As Milka Pietikainen, vice president of corporate responsibility at telecommunications and media company Millicom, says, "The main challenge is that the speed of development of new online services and solutions outpaces legislative developments, so laws may always be lagging behind. There are, however, some key areas where it is very important to have the legislation in place to protect children, in particular in criminalising child sexual abuse content."
Where illegal content is concerned, global initiatives like INHOPE, which works with law enforcement agencies to combat online child sexual exploitation, have a positive impact. In other areas, local context cannot be ignored. Family structure, gender roles and cultural norms must be considered when developing governance frameworks.
While teenagers in the UK can easily access information about sex and relationships online, it might not be deemed appropriate elsewhere, for example. Despite many arguing that the internet should not be censored, in some countries there might be pressure to block culturally-sensitive online content on issues such as sexual orientation and female empowerment.
In the race to protect children online, there is concern that their rights are not always considered; that a lockdown approach could limit the benefits of technology and prevent freedom of expression. With this in mind, UNICEF and the London School of Economics/EU Kids Online are investigating children's rights in the digital age and a recent paper for the Global Commission on Internet Governance included several recommendations.
Multi-stakeholder approach
Network providers, app developers and other technology companies also play an important role. As the Guidelines for Industry on Child Online Protection state, "…businesses have to strike a careful balance between children's right to protection and their right to access to information and freedom of expression."
Mobile operator Telenor Group believes that a supportive ecosystem can help to address digital risks and increase children's resilience. It runs a number of child protection programmes, including CyberSAFE in Schools in Malaysia, and also supports global initiatives such as the Mobile Alliance Against Child Sexual Abuse Content.
Telenor's head of social responsibility, Ola Jo Tandre notes, "In most cases, I believe it is possible to achieve better protection and greater resilience among young people without going down the route of changing the legal frameworks. I would like to see more research into what children see as the real threats, better awareness among children, parents and teachers of how to tackle those threats, and more institutional capacity to help children recover from negative experiences."
Child safety online is also a priority for Millicom. In Paraguay, for example, its Tigo business works with UNICEF to provide education materials and tools (pdf). Millicom's Pietikainen acknowledges, however, that there is no one-size-fits-all solution.
"Children come online as they come into the world: naturally curious and innocent and, as offline, they need guidance from adults on how to navigate and behave," she explains. "In Europe, parents are being informed with magazines and online resources. These models work to a large extent in our Latin American markets but they do not necessarily work in environments like Africa where many parents do not have fully internet-enabled devices, devices are shared, or services are pre-paid. We need to think of completely new ways of raising awareness."
Empowering the digital citizens of the future
From the homes and classrooms of Diriamba, Kampala and Mandalay to the congress centre in Davos, connectivity is a hot topic. The Fourth Industrial Revolution is here, claimed politicians and business leaders at the World Economic Forum, with new technologies "blurring the boundaries between people, the internet and the physical world."
For young people, the transformative potential of the internet and mobile devices is enormous but the safety challenges must be addressed. As we head towards 2020, governments, businesses, NGOs, educators, parents and other stakeholders must continue working together to help children everywhere become resilient and responsible digital citizens.
Content on this page is paid for and produced to a brief agreed with UNICEF, sponsor of the child rights and business hub